In 2019, there is no more important event for auto OEMs and their display suppliers and manufacturers than the 26th Annual Symposium on Vehicle Displays & Interfaces taking place Sept. 24-25 at the center of global automotive excellence.
TOTAL VEHICLE DISPLAYS…TOTAL TECHNOLOGY…
TOTAL IMMERSION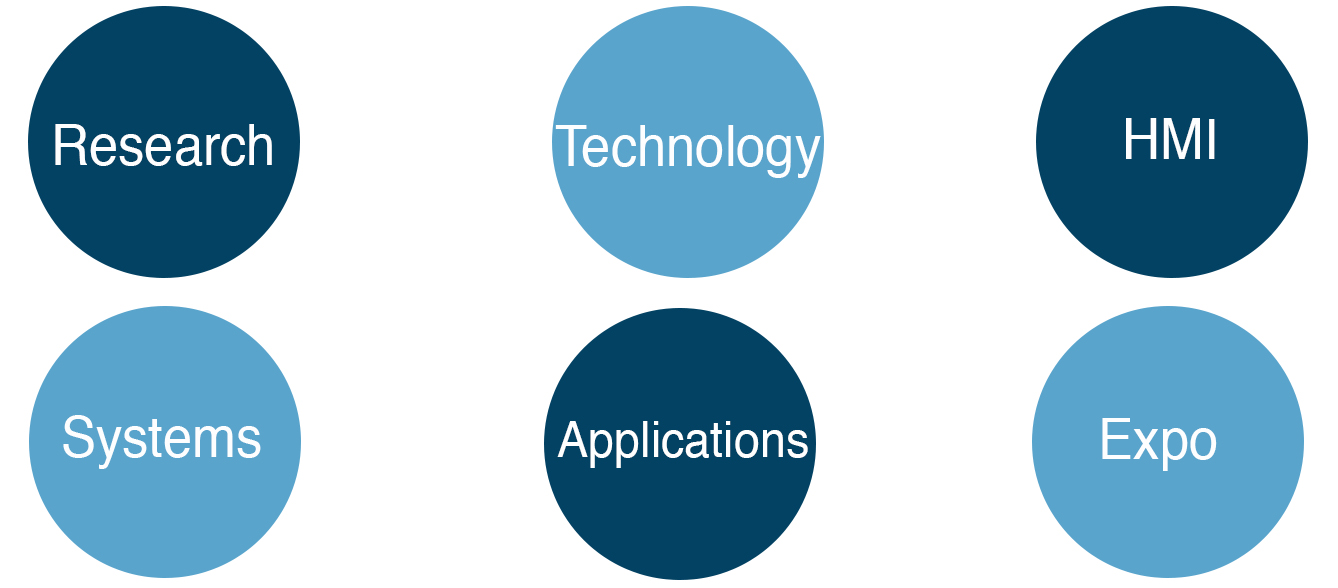 Join hundreds of the industry's brightest techno-future HMI engineers, scientists, and designers from the display, photonics, vehicle systems, academic and automotive OEM communities.
THE TECHNOLOGY RELATED HMI PROGRAM
THAT'S TOO IMPORTANT TO MISS
(Click to Download)
Because industry visionaries provide insights you can't get anyplace else – including integration roadmaps for growth and profit as the trillion-dollar global automotive OEM marketplace follows consumer electronics in migrating to connectivity technologies and larger screen sizes to support multiple internal vehicle systems, infotainment and safety.
Once a year the brightest minds gather to share their knowledge and expertise on the very latest developments and advances in vehicle display science, engineering and emerging applications destined to shape the holistic driving experience of tomorrow's smart… high-tech… hybrid… electric… connected… and autonomous vehicles.
TAKE A TECHNO-FUTURE DEEP-DIVE AT THE SOURCING EXHIBITION
(Click to read Exhibitor News)
Discover bleeding-edge scientific advances… revolutionary new technologies… and potentially game-changing breakthroughs destined to enhance and transform the cockpit experience in vehicles worldwide.
Experience hands-on-demos, source, collaborate, partner and conduct problem solving with expert tech reps from more than 70 leading display technology product, service and solutions providers.
COME EXPLORE…NETWORK…COLLABORATE…
PARTNER AND SAVE
Delegates will walk away with exclusive data, findings and perspective, on the latest scientific advances and potential breakthroughs that could lead to the next generation of technological 'magic' for tomorrow's connected in-car experience.
As a delegate to SID Vehicle Displays Detroit you won't have to pay thousands in fees.
SAVE $50.00 OFF ALL-INCLUSIVE EARLY BIRD RATE
BEFORE SEPT. 6
Your fee includes a copy of the Digest of SID Vehicle Displays 2018 Technical Papers, online access to the technical presentations and all your day meals. Each day you get continental breakfast, hot buffet lunch, and afternoon refreshments. Entrance to the exhibits and parking are both Free.
SID Members Welcomed Back:
($300.00 before Sept. 6 / $350.00 after Sept. 6)

Join the entire electronic vehicle displays community…academia…industry…and suppliers.
Non-SID Members Welcome:
($400.00 before Sept. 6 / $450.00 after Sept. 6) Discover roadmaps to next-gen vehicle displays, user interfaces. Your registration comes with a one-year membership in SID (Society for Information Display).

Warning About Attendee List Scams
The Society for Information Display Metropolitan Detroit Chapter, as the owner of the Vehicle Displays & Interfaces Symposium, does not sell or rent its attendee list. Please forward all attendee list solicitations to Samantha Tola at stola@pcm411.com. You are strongly discouraged from purchasing any counterfeit attendee lists. Please refer to this article from TSNN Trade Show News for further information on attendee list scams.
2019 Corporate Sponsors